PINWHEELS
Let's revisit a favorite craft from our childhood!
Make red, white and blue pinwheels to decorate the yard for the 4th of July.
Here are simple instructions from www.thriftyfun.com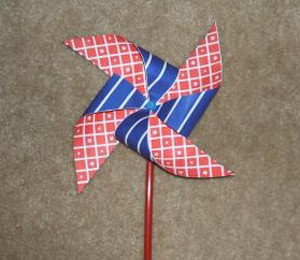 Kids will enjoy making and playing with these pinwheels. They are very quick, easy and inexpensive.
Approximate Time:
About 15 minutes
Supplies:
2 sheets of printed card stock or scapbooking paper
pencil
scissors
ruler
straw
push pin
pencil eraser
Instructions:
Cut out a 6 inch square from each piece of card stock.
Glue the two squares together, with the blank sides facing each other.
Draw an "X" from corner to corner.
Cut along the lines, stopping one inch from the center.
Fold every other corner into the center making sure they overlap slightly.
Insert a push pin through the center and secure it to a straw.
Put an eraser on back over the pin to hold it in place.
By Rachel's Mom from Wilkesboro, NC