Peppermint
Plates
I saw a fun craft segment on the Hallmark Channel Home and Family Show.
The craft was 'plates' made from starlite mints.
The mints were placed into a silicon cake pan or on parchment on a cookie pan,
warmed in a low degree oven--the mints melted together into a solid!
I have
not
made these yet, but looks like a fun tray for cookies and candy.
Google or Pinterest Starlight Mint Plates and Bowls, many ideas pop up!
I read through many of the ideas and some had some really good tips, like
be sure to use starlite mints, since some mints won't melt.
Here are the instructions shown on the Home and Family Show:
Jessie Jane's DIY Peppermint Plates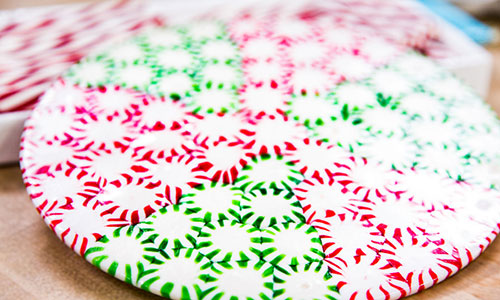 Ingredients:
• Red and green starlite mints
• Silicone baking mold - preferably 9" round
** Note: You could also use a baking sheet with parchment paper
Recipe:
Preheat oven to 350° and unwrap all your mints and place them inside the silicone round. Keep them all super close together making sure to fill out the entire round. Get creative and make a design too!




Carefully place the silicone mold in the oven for 5-7 minutes until the mints are melted together. Be sure to watch carefully as you do not want the mints to start to bubble.




Remove from oven and let cool on the counter for 10 minutes before removing from the silicone mold.




If you wish to make your peppermint tray a cake stand you can glue candy canes to the base. Obviously do not eat if you choose to use hot glue.




Use platter to hold Santa's cookies or to serve holiday treats!
TIPS
:
The plates are edible so you can break off pieces and add them to you hot cocoa for peppermint hot chocolate! You can also use them as a serving piece for dessert…and then eat the plate!
Do NOT overbake the plates.



Use silicone bakeware or a baking tray with silpat or parchment paper.



Do NOT use a real pan.
For more with Jessie Jane, visit lilyshop.com.