We brought back a box of Idaho 'taters' from our big adventure.
I used a few of those, along with some from our garden to make
the following yummy soup. It is perfect for a cool day, very rich and filling.
I put the mine in the crock pot, but be sure to use a liner for easy clean up.
This recipe is from www.bettycrocker.com, but feel free to make it your own.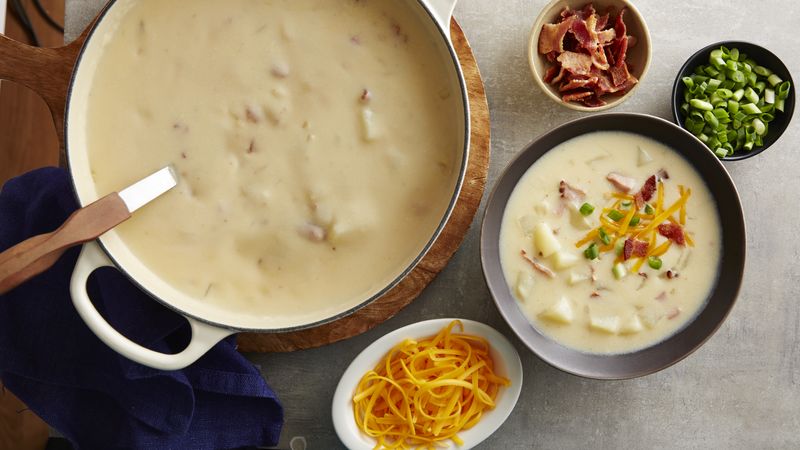 Prep Time

40

MIN

Total Time

40

MIN

Servings

15
Ingredients
1

package (12 oz) bacon
1 1/2

cups chopped onion
6

cups Progresso™ chicken broth (from two 32-oz cartons)
2

lb baking potatoes, peeled, cubed
2/3

cup butter
3/4

cup Gold Medal™ all-purpose flour
4

cups milk
1

teaspoon salt
1

teaspoon freshly ground pepper
1

cup diced cooked ham
1

container (8 oz) sour cream
2 1/2

cups shredded sharp Cheddar cheese (10 oz)
3/4

cup sliced green onions
Directions
1

In 12-inch skillet, cook bacon over medium heat 6 to 7 minutes or until crisp; drain on paper towels. Crumble bacon; set aside. Reserve 2 tablespoons drippings in skillet. Cook onion in bacon drippings over medium-high heat 6 minutes or until almost tender.

2

In 6-quart Dutch oven, mix onion, broth and potatoes. Heat to boiling; reduce heat. Cook 10 minutes or until potatoes are very tender.

3

Meanwhile, in same skillet, melt butter over low heat. Stir in flour with whisk until smooth. Cook and stir 1 minute. Gradually stir in 2 cups of the milk. Pour milk mixture into potato mixture. Add remaining 2 cups milk, the salt and pepper. Cook over medium heat, stirring constantly with whisk, until mixture is thickened and bubbly.

4

Stir in ham, half of the bacon, the sour cream, 2 cups of the cheese and 1/2 cup of the green onions. Cook until thoroughly heated and cheese is melted. Evenly top individual servings with remaining bacon, 1/2 cup cheese and 1/4 cup green onions.